I am so delighted to have been longlisted for the Jacksons Open Painting Prize 2019.
421 artworks have been selected from 5366 entries, and the quality of longlisted work is superb.
"Excelsior" is my selected piece, and is an oil painting on canvas, size 80 x 100cm, of King's College Chapel, Cambridge.
Between now and 12th April there is an online People's Choice vote, so if you would like to vote on Excelsior, or any of the other wonderful artworks, please visit
www.jacksonspaintingprize.com
and follow the link to the View and Vote Now page.
2019 brings new work into focus. I am working mainly in oils and cold wax medium, creating new paintings which explore amongst other things a sense of space, both physical and emotional. I am celebrating my love of layers, colour and surface texture. I take inspiration from my memory and experience of the world around me, both here in Fenland and further afield.
I shall be exhibiting with Cambridge Drawing Society in March, and with Cambridge Open Studios in July.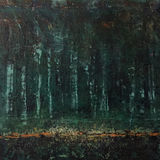 Subscribe to my mailing list