I am delighted that at the Cambridge Open Art Exhibition my mixed media painting "Skyward l" was selected as one of the 'Top Twenty' artworks that will go on to be exhibited at the Storeys Field Centre, Eddington. 24th October - 22nd November. Thank you to everyone at COAX and the pupils at Swavesey Village College for all their efforts to stage this exhibition.
Other news:
"The Air That I Breathe ll" was pre-selected for the Institute of East Anglian Artists Annual Open Exhibition.
"Excelsior" was longlisted for the Jacksons Open Painting Prize 2019.
421 artworks were selected from 5366 entries, and the quality of longlisted work was superb.
2019 brings new work into focus. I am working mainly in oils and cold wax medium, creating new paintings which explore amongst other things a sense of space, both physical and emotional. I am celebrating my love of layers, colour and surface texture. I take inspiration from my memory and experience of the world around me, both here in Fenland and further afield.
I shall be exhibiting with Cambridge Drawing Society in March and October, with Cambridge Open Studios in July, and with Cambridge Open Art Exhibition in October.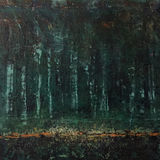 Subscribe to my mailing list